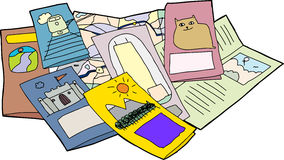 This week in English we have been looking at leaflets. Can your children tell you what leaflets are used for? Can the tell you some of the features? Next week we will be making our very own leaflets to promote Garrick Green and the lovely outdoor space we have. Could you give your child a quote to include on their leaflet?
In maths we have been recapping time and how to tell the time to o'clock and half past. We know that when the minute hand is on the 12 it is o'clock and when the minute hand is on the 6 it is half past. We have been thinking about what the time will be one hour earlier and later, half an hour later and earlier and also beginning to think about where the minute hand is at quarter past and quarter to. Here is a great online resource to help with telling the time… http://www.ictgames.com/mobilePage/clock/
As part of your home learning it would be really useful if you could talk about the different things you do in a day and the times they are done. For example, we get up at 7 o'clock. We have breakfast at 8 o'clock. We leave for school at half past 8 (8:30).
It is also useful to talk about digital time as well as analgoue. For example- it is half past 12, it's 12 thirty (12:30).
Mrs Ellis gets to school at 7.30am. An hour later she has a cup of tea. What time does she have a cup of tea? 
Mrs Wade leaves school at 4pm and it takes her half an hour to get home. What time does she get home? 
If your child can show us or share the answers with us they could get a team point!
This weeks words are…
could
should
would
who
whole
Monday 6th May is a bank holiday
Next week is Art week and we will be working as a whole school to create new art work for the corridors.
We are now in May and the year 2 children will be doing their Reading and Maths SAT papers over the next few weeks. If your child is poorly or needs time off please come and speak to a member of the year 2 team.
Class photos are Monday 20th May
Friday 24th May is the last day of half term